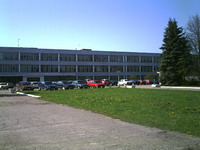 "TRANSISTOR" branch which is part of Joint Stock Company «INTEGRAL» is a large manufacturer of a wide range of semiconductor devices for diversified applications.

In 2008 the enterprise celebrated the 40th anniversary of its foundation. Over that length of time, "TRANSISTOR" branch has passed through intricate times of its formation, maturity and has evolved into the state-of-the-art establishment on manufacturing high-end electronics products which is able to successfully and flexibly respond to rapidly changing customer needs and market demands.

Having started its production activities with the most common germanium transistors, recently the enterprise produces several hundred different part numbers of semiconductor devices and ICs. Over 90% of its products are exported by the enterprise overseas (China, Taiwan, South Korea, et al.) and to Russia.

The economic circumstances early in the nineties, stipulated by collapse of the USSR and lack of the demand for military products, required from the personnel of the enterprise to promptly solve the challenging problem on the renewal of the range of items being produced, and to elaborate the tactics for survival and the strategy for further development of the enterprise. The development and launching of a wide line of the competitive, high-quality, state-of-the-art microelectronics items having a steady demand in the markets of industrially developed countries was taken as a key idea for future actions. To solve these challenges, the enterprise rearranged its organizational structure. There was established the division for development of semiconductor devices, the division for marketing and foreign trade, while simultaneously the required process equipment was being purchased and installed.
The enterprise has introduced an organizational system which provides for the involvement of its manufacturing divisions, divisions for technological and engineering support of serial production already at R & D stages. This has allowed to considerably reduce the design-to-delivery lead time. Due to such organizational structure, over the recent years the enterprise has managed to renew 90% of its line of exported products.
"TRANSISTOR" branch is one of the leading manufacturers of semiconductor devices on the territory of CIS. The enterprise is an IDM (integrated device manufacture) establishment with a complete production cycle, starting from slicing silicon ingots «w 3, 4 and 5 inch to assembly steps and final tests.
Two wafer fabs with total capacities of 330,000 wafers per year employ contact printers for fabrication of items with 3um design rules and higher, and 0.8 — 2.0um projection printers. The system for maintaining the technological microclimate allows to provide clean room class 100,000 — 1,000 on general production floors and class 100 — 10 on work site.
Assembly department is equipped with automated process systems and provides for the assembly in more than 20 different types of packages, starting from a low-profile SOT-23 package to larger package types like TO-220, TO-218, DIP-64.
The current product portfolio of "TRANSISTOR" branch covers more than 500 types of different semiconductor devices and integrated circuits.